OHSBCA Districts
Central District - Delaware, Fairfield, Franklin, Knox, Lancaster, Licking, Madison, Marion, Morrow, Pickaway and Union Counties.

East District - Belmont, Carroll, Coshocton, East Liverpool, Guernsey, Harrison, Holmes, Jefferson, Lisbon Beaver, Magnolia Sandy Valley, Monroe, Morgan, Muskingum, Noble, Tuscarawas, Washington and Wellsville.

Northeast District - Ashland, Ashtabula, Columbiana, Cuyahoga, Geauga, Lake, Lorain, Mahoning, Medina, Portage, Stark, Summit, Trumbull and Wayne Counties.

Northwest District - Allen, Auglaize, Crawford, Defiance, Erie, Fulton, Hancock, Hardin, Henry, Huron, Lucas, Mercer, Ottawa, Paulding, Putnam, Richland, Sandusky, Seneca, Van Wert, Williams, Wood and Wyandot Counties, and also the city of Ashland.

Southeast District - Adams, Athens, Fayette, Gallia, Highland, Hocking, Jackson, Lawrence, Meigs, Perry, Pike, Ross, Scioto and Vinton Counties, the cities of Marietta School, Belpre Schools, Vincent Warren School, Logan Elms School, Westfall Local Schools and Circleville City Schools.

Southwest District - Brown, Butler, Champaign, Clark, Clermont, Clinton, Darke, Greene, Hamilton, Logan Miami, Montgomery, Preble, Shelby and Warren Counties.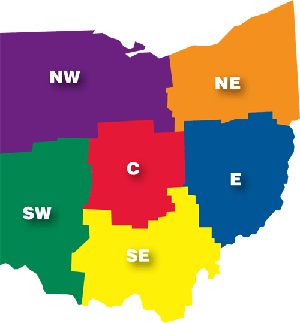 ---
District Reps
Central District

OLENTANGY BERLIN HIGH SCHOOL
CENTRAL DISTRICT SR. REP
School - (740) 657-5906
Cell - (614) 657-4595

NEW ALBANY HIGH SCHOOL
CENTRAL DISTRICT JR. REP
Work – (614)413-8300

Cell-(740)258-4768
East District
COSHOCTON HIGH SCHOOL
EAST DISTRICT SR. REP
School - (740) 622-1901
Cell - (740) 891-8383

BARNESVILLE HIGH SCHOOL
EAST DISTRICT JR. REP
School - (740) 942-7700
Cell - (740) 827-0842
Northeast District
FIRELANDS HIGH SCHOOL
NORTHEAST DISTRICT - SR. REP
School - (440) 965-4255
Fax - (440) 965-5296
Cell - (440 )724-9036

SOUTH RANGE HIGH SCHOOL
NORTHEAST DISTRICT - JR REP
School - (330) 549-2163
Fax - (330) 549-4740
Cell - (330) 651-2589

SOUTH RANGE HIGH SCHOOL
NORTHEAST DISTRICT - SOPH REP
Work-330-564-4187
Cell- (330)689-6470

BERKSHIRE HIGH SCHOOL
School - 440-834-3380 x3624
Cell - 440-384-2086
Northwest District
VERMILION
NORTHWEST DISTRICT - SR. REP
School - (440) 204-1701
Cell - (440) 864-2783

BUCKEYE CENTRAL

NORTHWEST DISTRICT - JR. REP
School – 419-492-2266 X 1111
Cell – 419-544-6022
Southeast District
WAVERLY HIGH SCHOOL
SOUTHEAST DISTRICT - SR. REP
School - (740) 947-7701
Fax - (740) 947-8428
Cell - (740) 708-2353

WHITEOAK HIGH SCHOOL
SOUTHEAST DISTRICT - JR. REP
School - (937) 442-2241
Cell - (937) 403-6709
Southwest District
MASON HIGH SCHOOL
SOUTHWEST DISTRICT - SR. REP
Work – (513) 398-5025
Cell – (513)349-5932

TROY HIGH SCHOOL
SOUTHWEST DISTRICT - JR. REP
Work – (937)332-6700 Cell-(937)524-1024