Board of Directors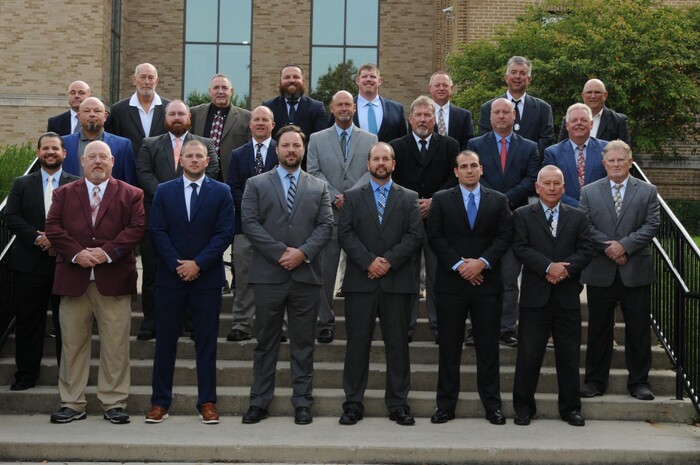 Board:
Front (l to r): Gene Bumgardner, Drew Kirby, John Bakalar, Craig Kyle, Mike Valesko, Frank Gamble.
2nd row (l to r): Nathan Prati and Jeff Noble
3rd row (l to r): Dan Ransom, John Combs, Mark Pelfrey, Ray Hamilton, Dave Barrow, Ray Benjamin, David Burkett.
4th row (l to r): Jeff Keck, Curt Karpinski, Chad Spencer, Adam Acuri, Jeff Mielcarek, Scott Manahan, Dave Hall.
OHSBCA Executive Board Members
PAST PRESIDENT

POLL DIRECTOR

CHAGRIN FALLS HIGH SCHOOL
School # –(440) 247-5500 X 4438
Fax #-(440) 247-2071
Cell # –(216) 408-0449

PRESIDENT

DUBLIN COFFMAN HIGH SCHOOL

School – (614) 764-5900

Fax – (614)764-5925

Cell – (740) 816-8489

VICE-PRESIDENT
Unioto High School
Cell #: (740)352-4602

1ST VICE PRESIDENT

Harrison Central High School

School –(740) 942-7700Fax – (740) 942-7705 Cell – (330) 245-9194

TREASURER

St. Charles H.S.
Cell #: (614) 439-8553

SECRETARY

HEAD BASEBALL COACH
CAPiTAL UNIVERSITY

School #: (614) 545-2139
Fax #: (614) 268-0551
Cell #: (614) 774-4817

PUBLIC INFORMATION DIRECTOR

St. Charles H.S.
School #: (614) 252-6714
Cell #: (614) 778-2052

OHSAA CONSULTANT

Jackson High School
School #:
Fax #:
Cell #: (330)327-7773

BUSINESS MANAGER


Toledo Central Catholic H.S.
Work #: (419) 241-2222
Cell #: (419) 261-9245

HISTORIAN

Tuslaw H.S.
School #: (330) 837-7800 x2127
Fax #: (330) 837-6016
Cell #: 330-265-7310

WEBSITE COORDINATOR

Perrysburg H.S.
School #: (419) 874-3181
Fax #: (419) 872-8813
Cell #: (419) 265-9796

Augusta Brand Senior All Star Series Director

JONATHAN ALDER HIGH SCHOOL
School # – (614) 873-4642
Fax # (614) 873-4252
Cell # – (740) 507-0361

Registration Chairman

Retired
Cell # – (419) 681-1526